But they won't get even a mention.
One thing that Nintendo is so clever about, specifically in a game like Smash Bros., are the various nods to and acknowledgements to even the most obscure, little-if-ever mentioned franchises and characters that build Nintendo's unbeatable history.
I'm talking about nods to games that will likely never ever see the light of day again in terms of modern development (like Devil World, Clu Clu Land, etc.) It's little things like the nods to these characters/games you know we will never see again that brings a smile to your face. Like Nintendo, Sony Computer Entertainment has a somewhat healthy (could be healthier with proper marketing, but I'll save that rant for another article) stable of franchises to pick from in PlayStation's history.
Nathan Drake is a given. Ratchet and Clank are no brainers. Parappa is probably their oldest character to rely on for nostalgia other than Crash (which they never truly owned, but had a huge hand in developing and nurturing the franchise in the PS1 days).
But beyond that, PS All-Stars is really missing the mark, from my impression, when it comes to truly unifying the rich collection of characters and worlds that many PlayStation fans have seen from the PS1 days. If there is one thing I wish SuperBot had heavily borrowed from Smash Bros., it wouldn't be the gameplay, it would have been making the game a huge nod to the history that is PlayStation's (or even Sony's) brands.
In this series of articles leading up to the launch of PlayStation All-Stars Battle Royale, I will present and mention several games that SCEI could mention within the game, but more than likely, I'm 99.9% sure, won't.
Omega Boost, one of the PS1′s overlooked gems, developed by Polyphony Digital, who is mostly known for Gran Turismo. Not only was this game completely different from the racers that Polyphony had only developed at the time, it had solid visuals for a PS1 game and a rockin' soundtrack.
I really wish they would release this on PSN for download, but they have yet to do so.
Next up, another Polyphony (then known as Poly's) game know as MotorToon Gran Prix, their cartooni-est game, and actually a lot of fun. It's your typical racing-with-weapons game, but has an amusing batch of characters.
While it's probably not possible to play as a car in a fighting game, there could be a nod to it in terms of a stage, and since PS All-Star's is doing the worlds mixing things with it's stages, they could have developed a stage that would be Polyphony focused that starts out cartoony with MotorToon Gran Prix cars racing on a track, then had it shift into a track with the more realistic Gran Turismo cars zipping in and out and then finished it with an Omega Boost space theme (or had Omega Boost mix with Ratchet and Clank's heavy space themes).
Mr. Mosquito was one of the PS2′s more amusing titles. Originally released in Japan, the game was released in English via Eidos Interactive (now Square Enix) and their short lived Fresh Games label, which was created to publish obscure Japanese games on the PS2 and GameCube.
In the game, you played as none other than Mr. Mosquito. The goal of the game was to suck blood from the Yamada family in their home, without getting caught. This is one of those games that only Japan can come up with, but is definitely worth acknowledgment for being so obscure.
What Did I Do To Deserve This, My Lord? is a series of games, so far, only released for the PSP and are considered by a few to be cult hits for the handheld. In the games, you must protect a demon lord from hero warriors who are out to defeat him. You use a pickax to bust blocks, create monsters/traps to challenge the heroes and make mazes that will take the heroes more time to reach the demon lord.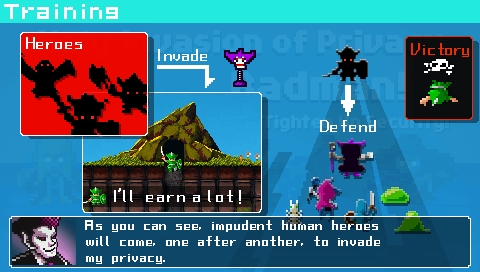 The games mostly sprite based and always popped on the PSP screen when playing it. The more you progress through the game, the harder they get, so if you enjoy challenging strategy titles, the My Lord? series would definitely be up your alley.
As for nods in PSASBR, there could be a whole pixel-heavy stage that pops on your screen based on the franchise, with everything that happens within the games themselves, affecting the stage itself that you fight on.
Next up, Q*Bert. That's right, Sony owns the Q*Bert franchise. It actually didn't dawn on me until seeing posters for Wreck-It-Ralph and the copyrights for Q*Bert refering to Columbia Pictures Industries, which is Sony, and according to the massive list of franchises and properties that SCEI owns, Q*Bert is also listed.
Q*Bert doesn't really need an explanation as he's one of many characters who really had his glory days in the arcade era of the 80′s, but unlike PAC-MAN, for example, the character hasn't maintained very consistent use, other than occasional pop culture gags. Would people play a revamped Q*Bert a la PAC-MAN: Championship Edition DX? Who knows.
That's all I have for now. I will have another article about Sony's missed opportunities to make nods to the PlayStation universe later in the week.
Hongo
Whatcha got under the foil, Mr. Party Pooper? Some party poop?